"Our responsibility as designers, builders and consumers is to make the changes we wish to see in the world.."

― Paul River Richarson
Hemp is classified under the green category of building design, primarily due to its positive effects on the environment.
Here at Haven Earth we feel that Hemp- Construction as in actively building with Hemp is the way forward for people who want to live in healthy, natural homes.
We see Hemp as a whole-systems approach to not only create healthy homes but also regenerating our earth and soil, incentivising and broadening the regenerative agriculture industry.
Our responsibility as designers, builders and consumers is to make the changes we wish to see in the world.
In doing so, we become the pioneers of a new way of living in harmony with the land.
We welcome you to join us!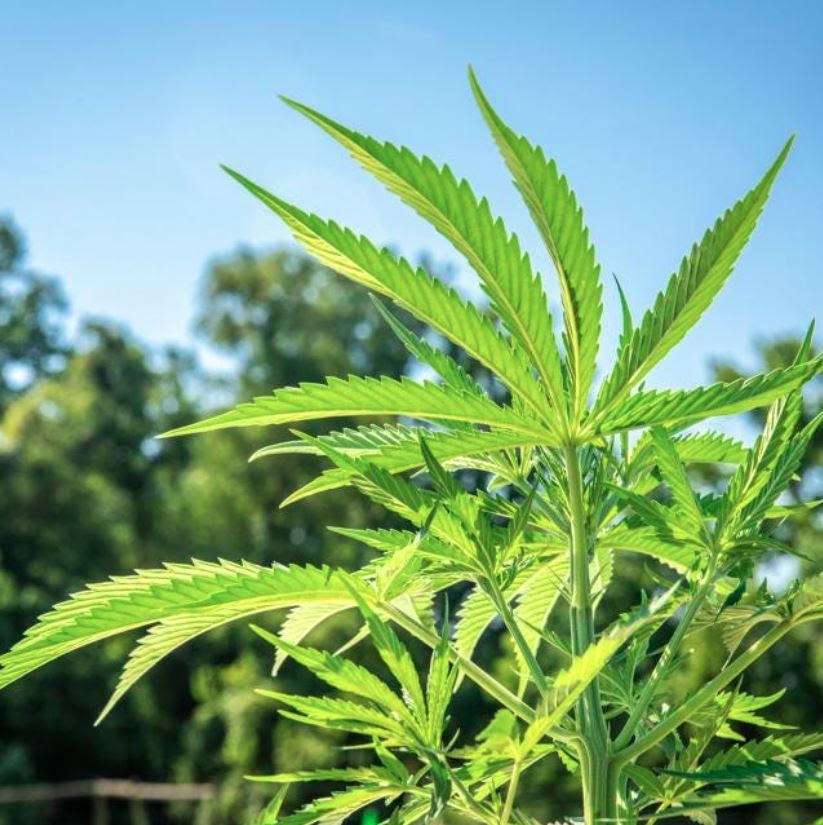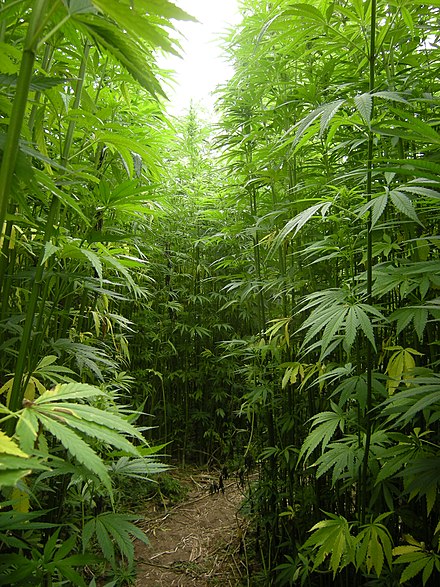 Hemp is a phenomenal plant offering a massive range of solutions that are much needed at this time.
Along with bamboo, hemp is among the fastest growing plants on Earth.
Hemp was one of the first plants to be spun into usable fiber 50,000 years ago and only during the 1970's did it become outlawed to grow commercially.
Hemp can be refined into a variety of commercial items, including paper, rope, clothing, biodegradable plastics, paint, insulation, biofuel, food and animal feed.
At Haven Earth we use Hemp Hurd to Build the Houses of the Future.
Hemp's Superior Natural Building Qualities
Hemp as a building construction material provides solutions to a variety of issues facing current building standards. Its light-weightiness, mould resistance, breathability, etc. makes hemp products versatile in a multitude of uses.
We are working with a number of Industrial Hemp growers throughout the United States.
We are working alongside innovative companies who have been in the business of pioneering the machinery for the processing of hemp for fiber and building materials.
We source the parts of the plant that we use for our Hemp building materials.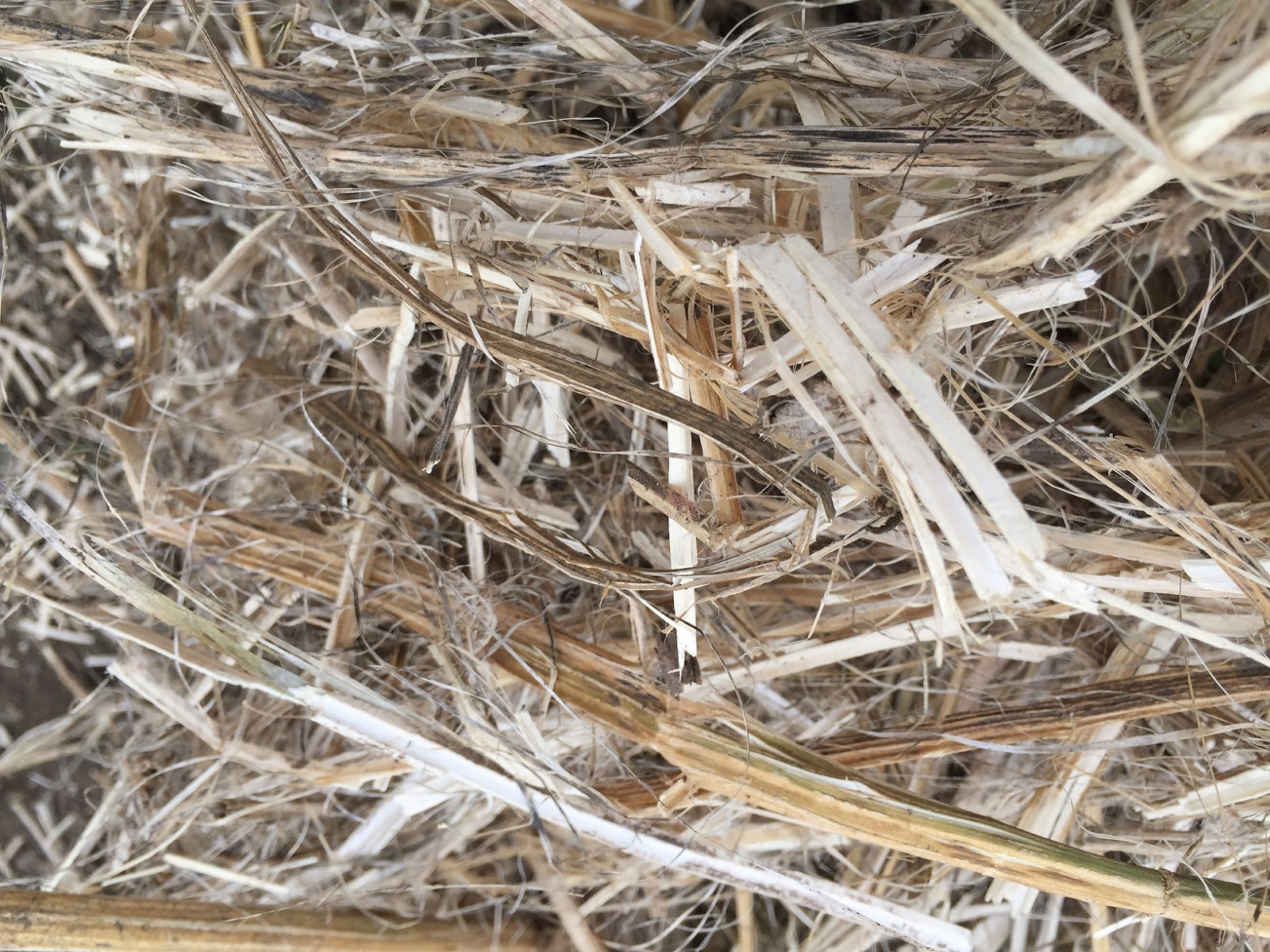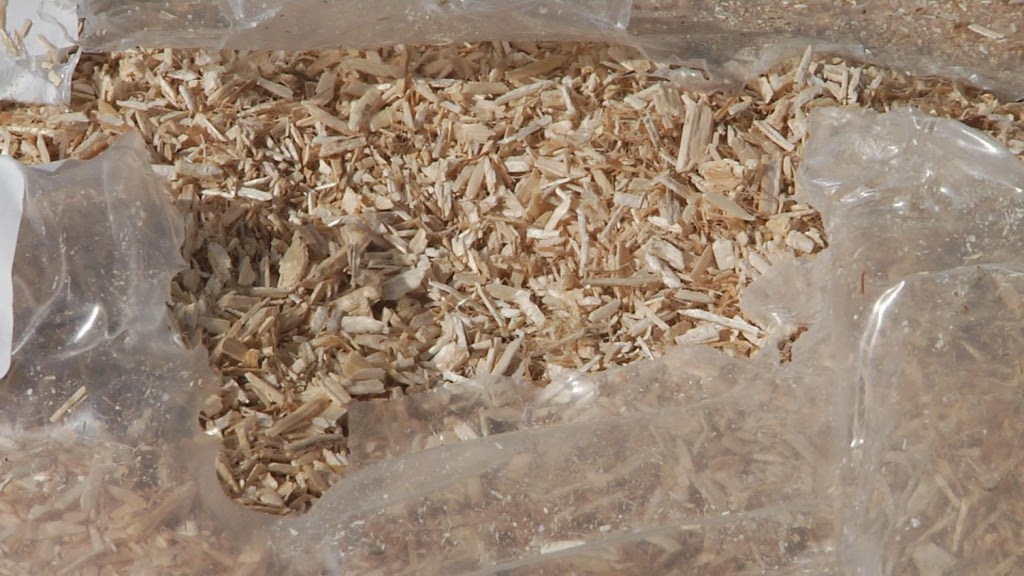 Hemp-hurd is the soft woody core from the center of the stalk of the Hemp Plant. Through a process called "Decortication" the fibrous coating around the stalk is removed and the woody core is chopped into small pieces. The quality of Hemp-hurd we source guarantees our projects are robust, long lasting and very well executed.
Hands On Building with Hemp
The most common use of hemp-lime in building is by casting the hemp-hurd and lime mix while wet around a timber frame with temporary shuttering and tamping the mix to form a firm mass. After the removal of the temporary shuttering, the solidified hemp mix is then ready to be plastered with lime plaster.
Hemp-Crete (or Hemp-Lime) is a mix of Hydrated Lime, Hemp Hurd, Clean Water, and Natural Mineral Binders.
Together this combination creates a non-structural building infill material that is:
– natural
– mould and rot resistant
– fire resistant
– super insulating,
– and has amazing acoustic properties.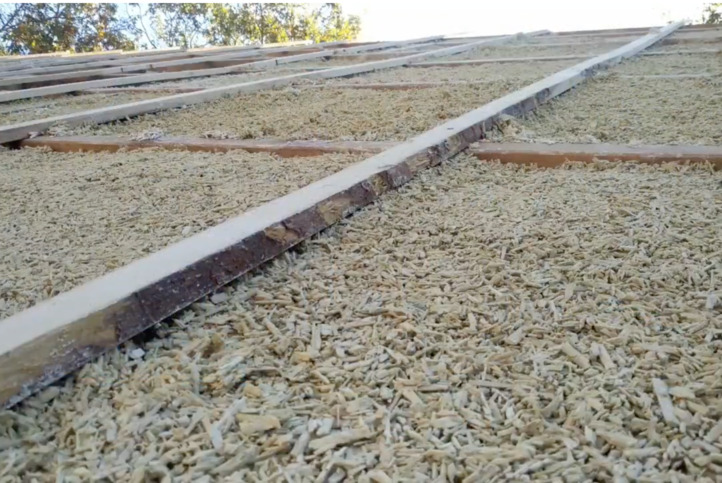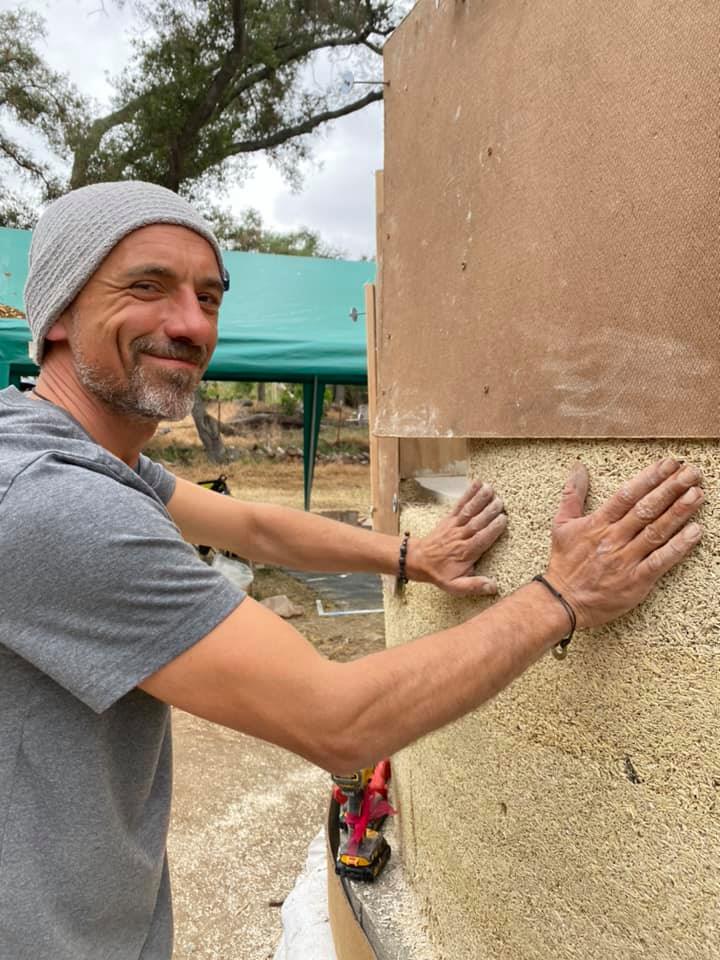 Hemp-create walls and infill contain a natural breathing system that utilizes the open cellular structure of the Hemp Hurd (Shiv) to retain moisture and other impurities, and release them again when the conditions are appropriate.
Essentially our structures become living/breathing systems requiring little if any ventilation in the space, as the air is not trapped inside the interior spaces, but rather a constant flow of fresh air is felt and experienced inside the building.
Hemp walls are superior to any conventional wall structures that trap air and block the natural flow of  oxygen. These conventional spaces then need "air-conditioning" or fans to increase the air circulation.
We prefer our own handmade Smart-Walls made from Hemp.
Come build with us, hands-on, the smart way!
Hemp Eco Systems who's mineral binder products reflect more than 25 years of experience with hemp building are made from 100% natural materials.
Their formula for the mineral binders are offering great solutions that have been tried and tested methods and materials to create our structures to the highest level and integrity.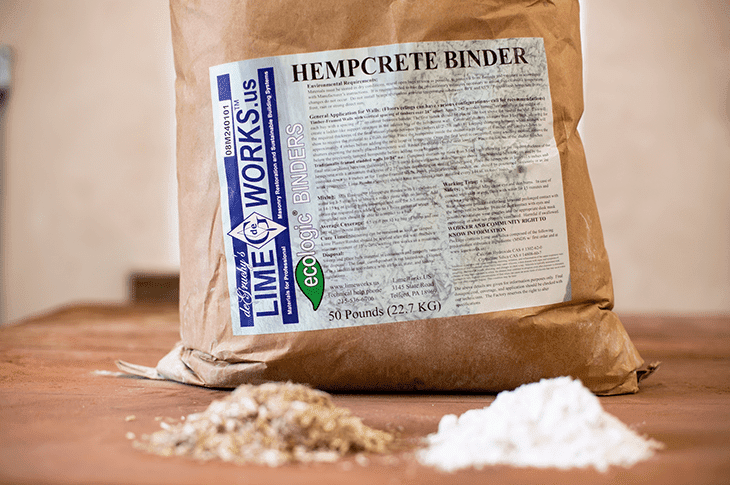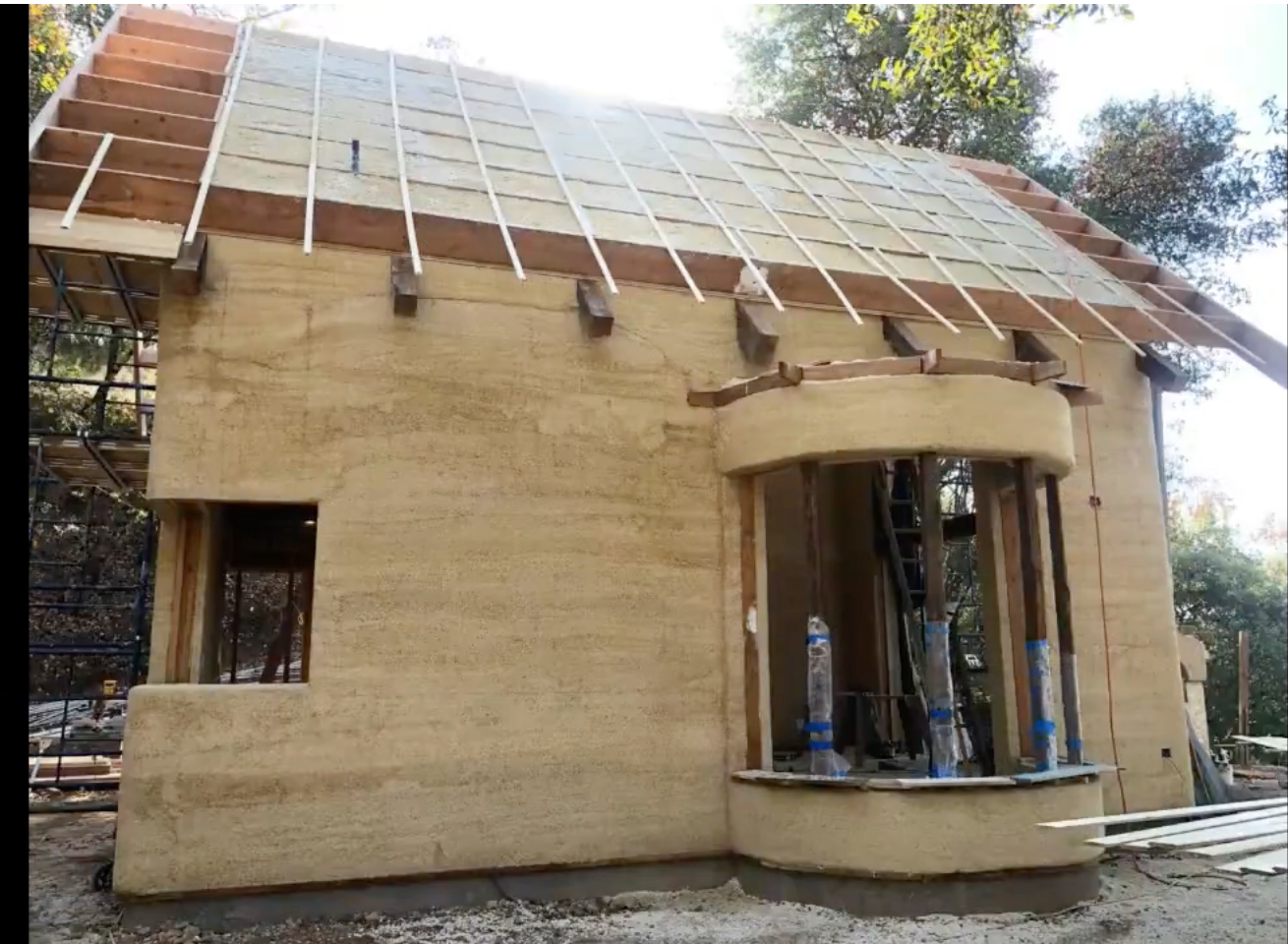 When we mix Hemp Hurd and Hydrated Lime together, we enable the process of calcification, yet the mixture takes too long to dry.
To speed the process up to a point where we can work with the materials, we use mineral binders to create a hydraulic action on the lime, which speeds the process up, and the lime essentially turns back to limestone.
Watch our 4-minute Hemp House time lapse
Through Hemp we are committed to helping others navigate their search for solutions for their own unique projects.
More on the amazing Nature of Hemp