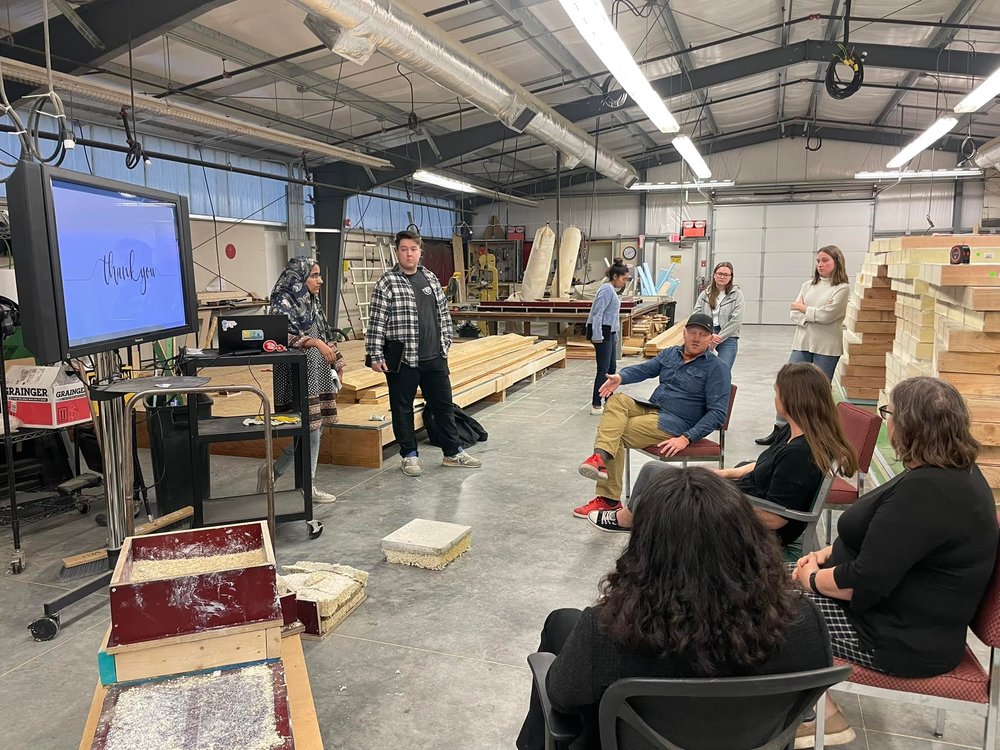 By Sarah Stephens, Midwest Hemp Technology
In a first-of-its-kind class offered last semester at Kansas State University, Professor Michael Gibson's graduate seminar students completed final presentations on building with hempcrete. The class spent the first half of the year researching hempcrete projects from around the world and the material's historical context.
Two groups of students worked together throughout the semester. One group focused on applications in flooring and the second built a 7-inch thick wall panel. To get started, they tested various binder ratios in 1×1 foot blocks until they found the right consistency. The flooring-focused group topped their hempcrete construction with cement and compared R-values, heating and cooling loads and thermal buffering, where an assembly's mass absorbs and releases heat.
Subscribe for HempBuild Magazine's free newsletter
Early in the production trials, Professor Gibson invited Angel Romero Jr. of Stuc-Go-Crete to assist.
"There is a steep learning curve with this material," said Gibson. "Angel was a huge help to us this semester, demonstrating the nuances of hempcrete mixing to the students as well as the practical strengths and limitations to this material. The students had been testing and optimizing material combinations with computer analysis for weeks, but we didn't have a 'feel' for hempcrete at all. Hands-on help from Angel was a big leap, and we learned that testing and experimentation with mixes is something that experts do all the time too. In the end we learned that hempcrete is a great material with a lot of immediate potential for use in Kansas, especially with the industrial hemp farming growing so quickly."
Angel made a couple visits to the campus during the semester and recently launched a hempcrete construction business in Dodge City, KS.
Click here to go to our FREE online community.
"Our family business has been focused on stucco for decades and some of the same techniques apply," commented Angel Romero Jr. "We founded Stuc-Go-Crete last year and are committed to hemp as a building material in Kansas. Like most elements of the industrial hemp industry, there is a lot of learning left to do but so much excitement around the possibilities. Stuc-Go-Crete starts our first commercial construction project in June and we can truly feel the momentum building all around it."
The industrial hemp hurd used in the project was provided by Midwest Hemp Technology in Augusta, Kansas.
"Working with Professor Gibson's class at K-State and collaborating with Angel's Stuc-Go-Crete, this project has really been a statewide effort and we couldn't be more excited with the results," said Sarah Stephens, CEO at Midwest Hemp Technology.
"The future architects graduating from this class can really change the face of environmentally friendly building and teach the world how to stretch and save our natural resources. Construction is one of the many uses of industrial hemp and it has the potential to make an enormous impact on our carbon footprint."
Professor Gibson plans to offer the class again next year and may even expand it to include a full year of study.
Kansas State University's College of Architecture, Planning and Design is nationally recognized for stewardship of the environment, social equity, economic viability, aesthetic delight and interdisciplinary collaboration in shared spaces such as the design laboratories and fabrication facilities.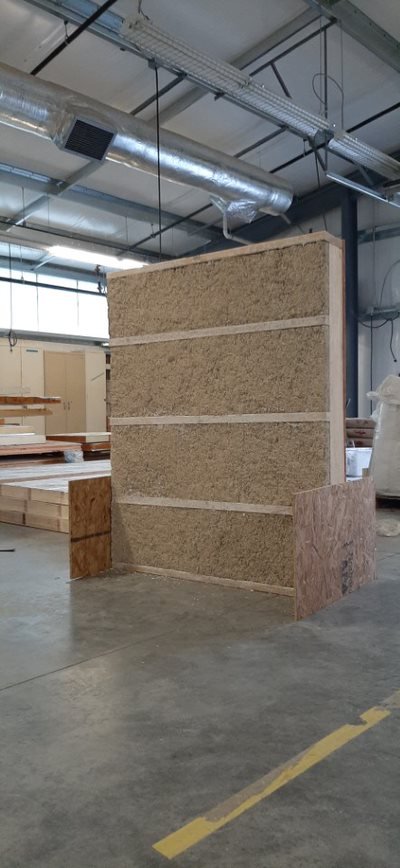 ---
Please Support our Classified Advertisers
(To find out more about advertising CLICK HERE).
Help Wanted:
Training and Education
Publications
Hemp Hurd (shivs)/Hemp Fiber/ Hemp Microfiber
Hempcrete installers/Insulation subcontractors
Lime Binder
Hemp Batt Insulation/Supplies
Green Builders
Hemp Building Engineers
Hemp Genetics
Professional Associations
Events

Originally published July 24, 2022 on Hemp Building Mag

https://www.hempbuildmag.com/home/kansas-state-hempcrete