By Kaja Kühl
This article is part of the Climate Action Lab at Wally Farms, a project diary to build a carbon negative dwelling –exploring architecture and design solutions that address the climate crisis. This article has been edited for length. read original HERE.
One of the biggest motivations in using hemp and lime as a construction material was our interest in building "net zero" or "carbon-negative" or "climate-positive" or "carbon-neutral"– there are a lot of different terms being used, ultimately, it is about achieving a balance between the carbon emitted into the atmosphere, and the carbon removed from it.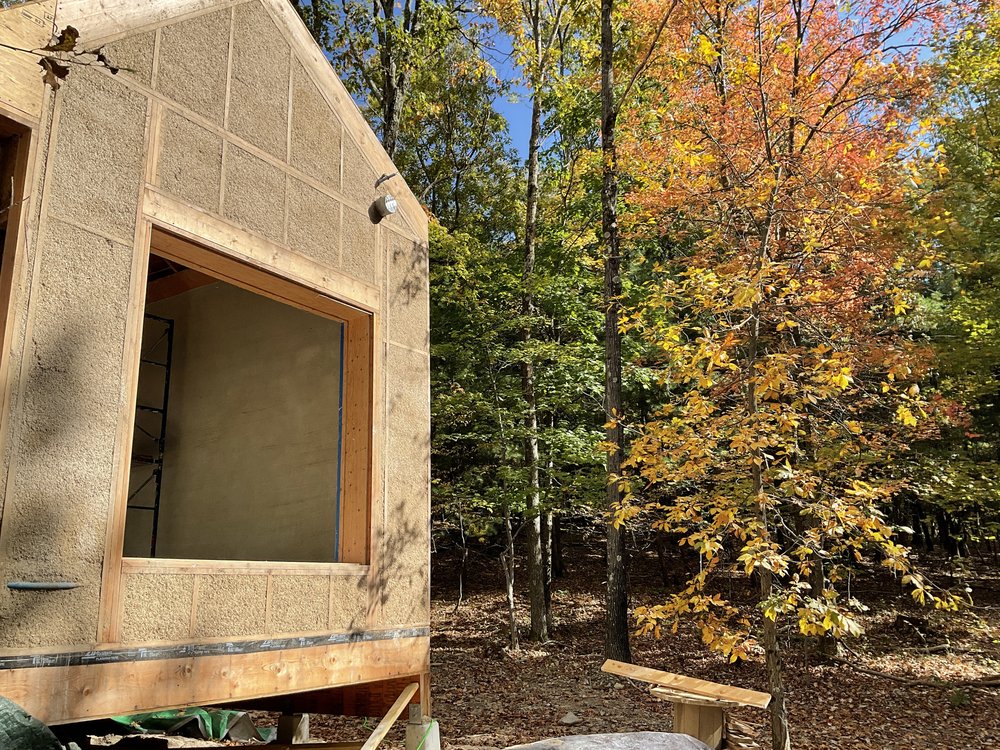 In architecture, it is about thinking of building materials as carbon sinks. Hemp is such a sink, because of the high amount of carbon it sequestered while growing. Estimates claim that hemp absorbs 2 metric tons of CO2 per acre, 5–10 times as much as trees because of its fast growth.¹ This CO2 is then stored in the building.
A number of software tools exist at various stages of development and/or use to help architects quantify embodied carbon in all kinds of materials. Few integrate "negative carbon" or carbon storage into their database. We worked with a beta version of the BEAM Estimator by Builders for Climate Action to input materials for envelope and framing.
Subscribe for HempBuild Magazine's free newsletter
In its current form — a public beta version — it is a google sheet and pretty simple, which is its biggest strength in my view.
Its ease of use makes it a great tool to quickly look up the difference between two materials and to get a general sense of embodied energy without having to study complex scientific Environmental Product Declarations (EPDs). Too often, we make material decisions based on aesthetics, warranty, functionality and of course — price. A quick look at this database lets you add the embodied carbon impact as a factor for choice.
The BEAM estimator focuses on "cradle to gate" — the material emissions associated with producing a material (A1-A3 in a life cycle analysis).
Here are some of the reasons why:
Negative Embodied Carbon
So obviously the best part of using the BEAM estimator was inputting our buildings' dimensions and seeing its embodied carbon value drop below or close to zero.
BEAM does this by subtracting the carbon-storing capacity of a material from the carbon emissions in phase A1-A3 using values from Phyllis 2, a databasecontaining information on the composition of biomass. When the carbon-storing value is higher than the emissions to harvest and process a material, its embodied carbon is negative.
Click here to go to our FREE online community.
Soooo…. Here is what we found
Building elements included in the embodied energy calculation
Both homes' embodied energy is about 500kg of CO2 equivalent, approximately the equivalent of using 56 gallons of gasoline.
The concrete foundation, while not big, was really hard to make up for in both micro homes. This again is a question of scale. We would have not used a lot more concrete for a three-story house, but would have installed a lot more biogenic material to balance the high emissions of the concrete.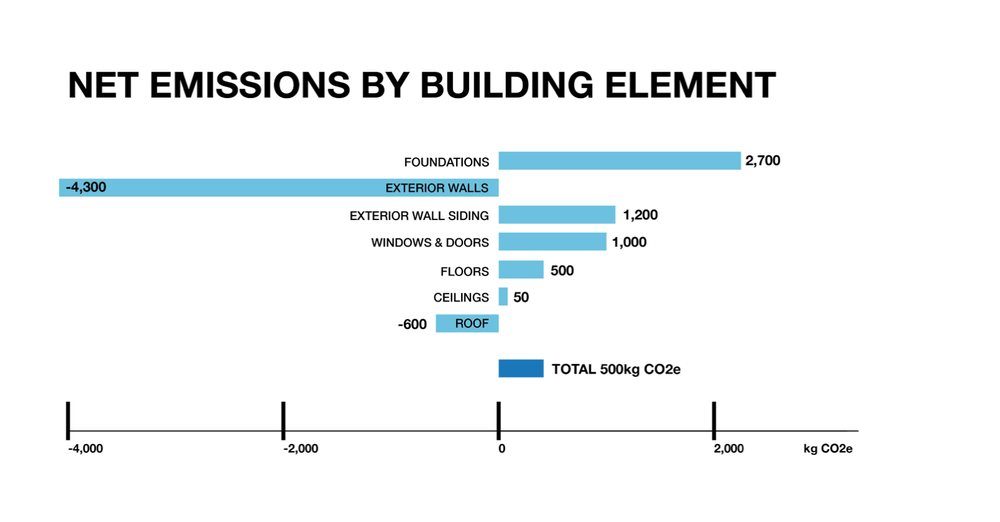 Hempcrete
The hempcrete did not disappoint, storing the greatest amount of carbon in both structures. Cellulose is also impressive without the additional health benefits that hempcrete provides. Ultimately, paying closer attention to embodied energy, be it through using more bio-based materials or materials processed with renewable energy is critical to reduce emissions in the critical short term setting buildings on a path to reducing emissions in their design and construction.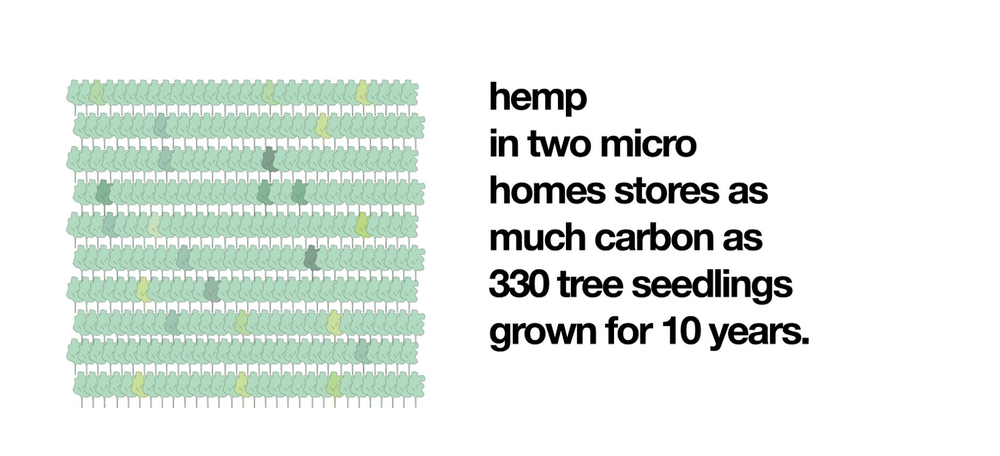 Kaja Kühl is a people-centered urban designer in Brooklyn, passionate about saving the planet. Adjunct Associate Professor at Columbia GSAPP @youarethecity
---
Please Support Our Classified Advertisers

••


Please Support Our Classified Advertisers ••


(To find out more about advertising CLICK HERE).
Help Wanted:
Training and Education
Publications
Hemp Hurd (shivs)/Hemp Fiber/ Hemp Microfiber
Hempcrete installers/Insulation subcontractors
Lime Binder
Hemp Batt Insulation/Supplies
Green Builders
Hemp Building Engineers
Hemp Genetics
Professional Associations
Events

Originally published June 30, 2022 on Hemp Building Mag

https://www.hempbuildmag.com/home/measuring-carbon-footprint-hempcrete