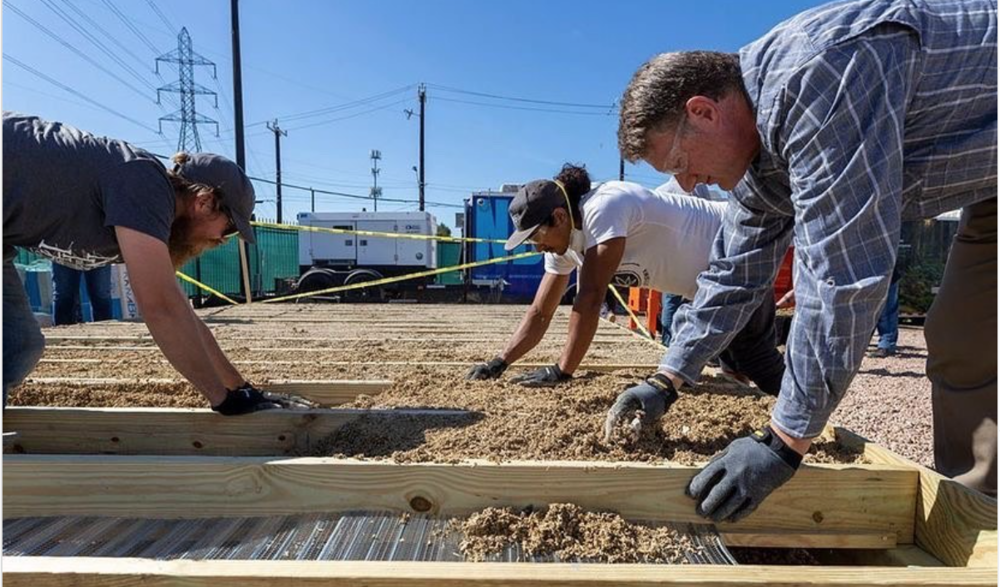 By Jean Lotus
A San Antonio, TX, fresh juice company will take a new direction this spring by offering fresh squeezed baby hemp cannabis greens sold from a walk-up hempcrete juice bar. 
Famous Juice Co., founded in 2014 by 29-year-old Amos Lozano, is building the company's first hempcrete juicery on the campus of San-A-Canna, a vertically integrated hemp farm, extraction facility and CBD wholesaler.
Subscribe to HempBuild Magazine's free newsletter
Entrepreneur Lozano is raising capital with a dream to build multiple drive-thru juice bars – all built of hempcrete – as a fast-food antidote along the superhighways of central Texas between Dallas, San Antonio, Houston and Austin.  
The company's first hempcrete structure was started in early November under the supervision of HempBuild Network, a team of hemp builders out of New Braunfels, TX.
Fresh-squeezed juices will be made on-site inside the small 12 X 20 ft. building. 
But unlike food trailers, which must run maximum air conditioning in the broiling south-Texas summers, the insulative thick walls of hempcrete – an insulation wall assembly of hemp chips and lime – will keep the juicery at a moderate indoor temperature.
"Hempcrete insulation is like a Yeti cooler on the outside of your structure," Ray Kaderli of HempBuild Network told Let's Talk Hemp.
Lozano's motivation is "sustainability –  environmentally and financially – to consider the health of myself and my employees in the day to day," he said. "And of course, it's just cool to have a building made out of hempcrete."
"Amos motivates me," said builder Kaderli. The new US hemp building materials industry's "pathway to production" is filled with pioneers, he said, but the industry "does need to become more predictable and consistent," he added.
Click here to go to our FREE online community.
"Only when large-scale use of hemp and building with hemp are common, will mankind realize the ecological, economic, and health benefits," he said.
Health has driven Lozano from the beginning when he got into the juicing business after a health crisis in his early 20s. Multiple doctors failed to diagnose muscle spasms, insomnia and tension headaches that derailed his formerly active lifestyle as a gymnast and bodybuilder. 
A series of juice cleanses cleared his head and led to vanishing symptoms, making him an evangelist. When friends begged him to make juice for them in 2013, he started with $29 and a juicer purchased on Craigslist. Since then, Famous Juice Company has rented space in a vegan commercial kitchen, purchased a $40,000 commercial juicer and retailed fresh-squeezed juice at a San Antonio wall-climbing facility.
"My slogan is eat plants, move often," said Lozano, a former American Ninja Warrior contestant who's been a vegan for more than seven years. 
But, along with juicing, Lozano wanted to jump into a business developing the many uses of  industrial hemp, after the plant came into his consciousness before the 2014 US Farm Bill.
He experimented with importing hemp t-shirts, and CBD pre-rolls and brokering  hemp packaging  and hemp flower to get a foothold in the industry. He was especially interested in hemp building materials, and devoured books about hempcrete.
"I was searching to be a consumer of industrial hemp products and realized nobody was doing this," he said. "I realized I gotta do it myself." 
Lozano's partnership with San-A-Canna came just at the right time, he said.
San-A-Canna's hemp campus extracts and whitelabels CBD for national companies, operations manager Michael La Peer told Let's Talk Hemp. The 9-acre farm focuses on green practice agriculture, greenhouse-grown hemp. The company uses hydrocarbon and solventless extraction to process at top production about 500-1,000 lbs of hemp biomass per day. 
The company uses organic methods as much as they can now, he said with the goal of "converting to full sustainability using hemp." 
Lozano said he couldn't use industrial hemp waste from other farms because it wouldn't be fresh enough to substitute for kale and other greens in the juices. 
"Now it's farm-to-table with the baby hemp greens," he said. 
Not all of Famous Juice Company's liquid elixirs contain hemp. He sells popular juices and smoothies with ingredients such as kale, parsley, celery, cucumber, orange, lemon and ginger.
Now, a separate menu with cannabis leaves will be available, as well as a shot of CBD in any beverage. 
And Lozano acknowledges he wouldn't sell much pure hemp leaf juice, which he describes as "bitter."  The secret to juicing is to dilute the bitterness of greens with easy-to-digest sweet fruit juices, to impart the health benefits, he said. 
Famous Juice has attracted investors and a second hempcrete location with a 1,400 sq. foot commercial kitchen is planned for July in San Antonio, Lozano said. 
"We're gonna make this happen, regardless of time or money," Lozano said. "We're dedicated to pioneering building hempcrete juice bars. Of course it's gonna be difficult," he added. 
"But I'm willing to take that journey."
Jean Lotus is the editor and publisher of HempBuild Magazine. jeanlotus@hempbuildmag.com . This article also appeared in Let's Talk Hemp.
---
Please Support Our Classified Advertisers 
(To find out more about advertising CLICK HERE).

Originally published December 14, 2021 on Hemp Building Mag

https://www.hempbuildmag.com/home/hempcrete-texas-juicery